While the White House and Congress were trying to decide what kind of aid to send while criticizing the people of Puerto Rico after the devastation from Hurricane Maria, one Black entrepreneur decided to do something about it. Freddie Figgers, owner of one of the nation's largest African-American owned cell phone companies and networks, has sent over 500 free satellite phones with unlimited calls, texts and data to help families affected by Hurricanes Irma and Maria.
"The hurricane destroyed the entire island's telecommunications' network," said Figgers, 28, founder of Figgers Communication that has designed his own phones and developed his own network. "We're trying to do all can to help these families communicate with each other, and especially their loved ones."
Four years ago, Figgers developed the custom-designed phone the "F1" phone that has automatic anti-texting functionality and super-fast charging. Next month, he is releasing the F2 the company, which will be waterproof and shatterproof. Figgers Communication is currently one of the few telecoms in the country that manufactures its own phone and provides its own service.
Born barely alive to his crack addicted mother, little Freddie Figgers somehow survived, and by age 22 held four U.S. patents and became the youngest American to own and operate a telecommunications company, Figgers Communications. As Figgers, who grew up to adopted parents in Quincy FL, looked at the devastation in Puerto Rico, he said he had to do something. Figgers said the SIM cards are fully activated for 90 days free of charge. "We all need to do our part to make sure that Puerto Rico gets back on its feet." These SIM cards and phones will be distributed out in San Juan to individual families and at San Juan Airport.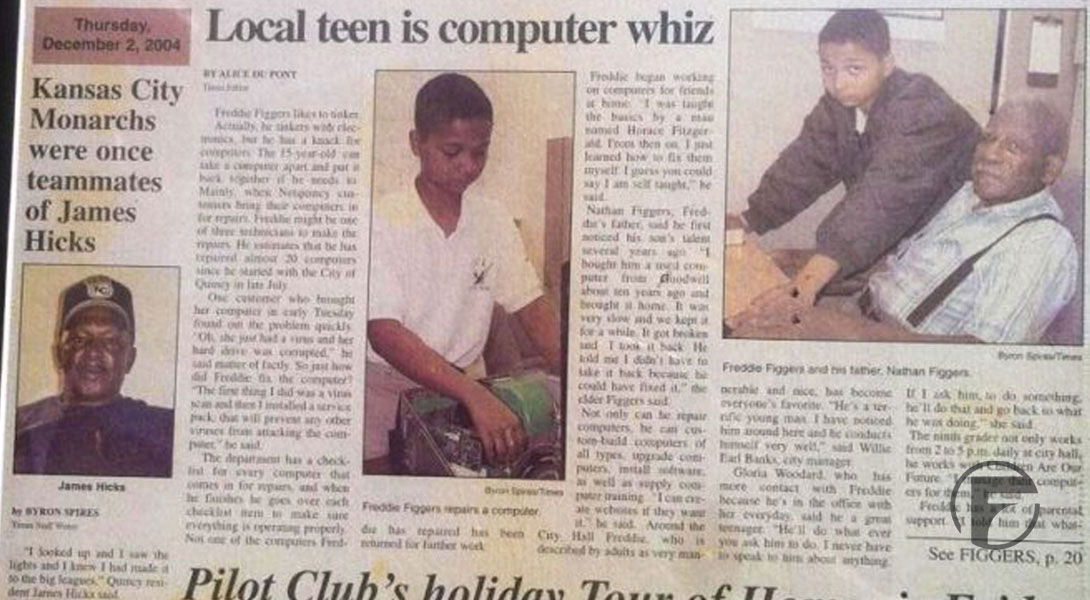 Figgers is a childhood prodigy. At age 9, Freddie Figgers took a part an old IBM personal computer five times that his father bought at a local Goodwill Store. On the sixth time, he got it working. At age 13, he started working for the city of Quincy as a computer technician and network administrator in its NetQuincy department, setting up the city's network and helping residents. At age 16, Figgers started Figgers Computers, repairing computers and installing wireless area networks. By age 17, he created a cloud-based hosting network that stored data for more than 70 clients – law firms, car dealerships and dozens of other companies.
By age 18, he had created his own computer operating system. Figgers also designed a VOIP – Voice over Internet Protocol network – that transmits voice to and from the USA from more than 80 countries' landline and mobile connections. He achieved another milestone in 2011, when the FCC approved the company's application to own spectrum, leading to the construction of the company's first cellular tower.
Outside of Figgers Communication, Freddie Figgers has even helped physicians with an invention that helps doctors monitor patients remotely.
Figgers Communication offers cell phone service plans and mobile broadband plans with nationwide coverage starting at $15 per month without annual contracts. More information can be found at Figgers.com.